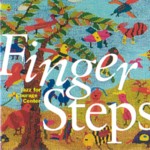 Courage Cards & Gifts --- Courage Cards & Gifts is dedicated to promoting and supporting the work of artists with disabilities.
Yoshihiro Arita plays electric banjo on the tune, "Audomeli(In the key of L)" along with his fellow musicians, basist Chiris Silverstein and drummer Cozy Miura. The tune reflects the influences of bluegrass, blues and touch of Asia.
"With contributions from the Phil Aaron Trio, Laura Caviani, and the Bobby Peterson Trio, musician Dan Moffatt collaborated with his son Patrick and other Courage Center children to create this unique jazz compilation. It contains original music composed by the children and recorded by some of the finest musicians on the national scene. Hear jazz greats Bill Carrothers, Avishai Cohen, Jay Epstein, Yoshihiro Arita and Gordy Johnson bring this music to life inspiring courage, hope, and more than a little finger-snapping. "