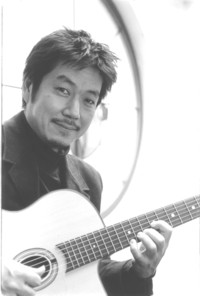 photo : Kohsei Yoshida

Yoshihiro Arita
guitar and banjo player
is at home from traditional bluegrass to improvisational jazz.
Arita was born in Osaka, Japan in 1957.
At the age of 16, he started playing bluegarss banjo.
From 1984 through 1991, Arita resided in the United States.
While studying at the Berklee College of Music in Boston,
he was active not only in jazz and classical area but also
various kinds of music scene, such as Irish, old time, Klezzmer.

Arita won the first place at the National Banjo Championship
at Winfield, Kansas in 1985, and Galax Fiddlers' Convention in 1987.
He formed a progressive acoustic group "Off Center"
with a mandolin/guitar virtuoso, John McGann.
Also he played with a bluegrass band "Boston City Limits".
As a part of the group, he toured in Europe in 1985 and 1987.
During his U.S. years, Arita performed with Bill Grant & Delia Bell,
Bela Fleck, David Grisman, and Fiddle Fever, among others.

In 1992, after coming back to Japan, Arita released his first solo CD
"Whale Dance" featuring eclectic original banjo and guitar tunes.
He was invited as a faculty member to "Tennessee Banjo Institute 1992",
the world-largest banjo summit.
Presently he has been actively involved in studio recording projects
and live performances around Tokyo.